Djali Vesela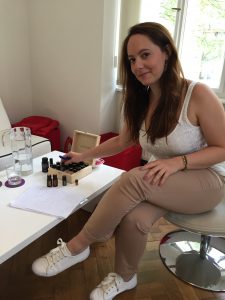 Founder of Djali Solutions (www.djali.solutions), is a certified mindfulness coach trained in mindfulness, compassion, coaching, psychology, well-being, aromatherapy, ayurveda and communication. Djali works both in Prague and Amsterdam. Djali is a sought after expert by Czech 100 C level executives, government officers and scientific experts.
Djali has been involved in mindfulness since 2013, having started her experience in India at the Art of Living and then continuing through Leiden University and certified Mindfulness & Compassion training in the Netherlands, prior to which she got trained in Communication and Psychology at the John Hopkins University, Brighton University and Unisa.
Djali is known to change peoples lives, helping them find their dream jobs, peace and partnering with like-minded souls.
"Mindfulness is a lifestyle. It changes your day to day being for the better in dimensions you could not picture before. I love how being more aware bit by bit changes people's quality of life."
Djali's mindfulness services:
Mindfulness Coaching – typically 8 x 80-90 min. sessions fully focused on awareness of here and now, bringing every day happiness and better performance
Mindfulness Course – 8 weekly sessions of 135 minutes, in a group of 3-5
Compassion Coaching – Typically 8 x 80-90 min. sessions helping with how to: – stop being so hard on yourself – handle difficult emotions with greater ease – motivate yourself with encouragement rather than criticism – transform difficult relationships
Mindfulness & Meditation – 60 min. of an energy focused session is mainly a guided mind work and guided meditation session, designed to bring you into your body to elevate its energy vibrations and release tensions. This treatment can serve as a jump start for overall body heaviness release and ailment recovery.  (best done as a complement to Mindfulness sessions or Wellbeing therapy)
Djali also writes mindfulness, wellbeing and lifestyle articles.
https://blog.sivanaspirit.com/author/djali84us/